Hotel California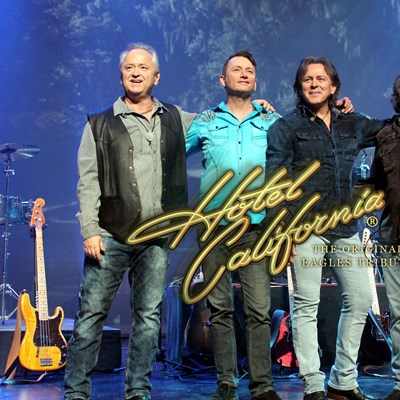 About
The Original Tribute to THE EAGLES, Hotel California prides itself on creating the illusion that you are listening to the actual Eagles. They've shared the stage with the Doobie Brothers, Lynyrd Skynyrd, Styx, REO Speedwagon, Gretchen Wilson and many more International Artists. They've performed in Tahiti, Dubai, Japan, India, Bermuda & all-over North America.
Today Hotel California continues to tour internationally, and their stage show has evolved into one of the most impressive and popular productions on the North American soft-seat and festival circuits. Featuring original members within their strongest lineup to date, the band is enjoying what they do today more than ever - and it sure sounds like it! 
Last Seen: 2014
Tickets
Tickets will go on sale Wednesday, August 16 at 9 a.m.
Tickets:  $45 Adults, $40 Students & Seniors