Harry Manx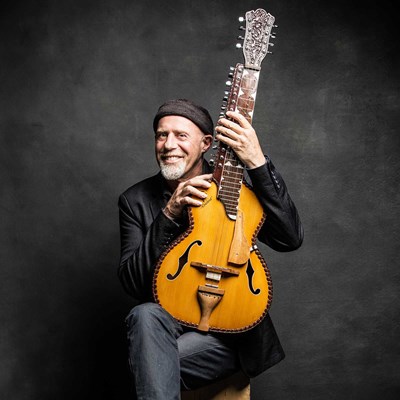 About
Harry Manx creates musical short stories that wed Blues traditions with classical Indian ragas. His unique sound is bewitching and deliciously addictive.
A successful touring performer, Manx has taken his "breathtaking" shows across Canada, US, Australia, and Europe. He has appeared at prestigious festivals, world-class theatres, concert halls, and Blues clubs around the globe. Playing the Mohan Veena, lap steel, harmonica, stomp box, and banjo, Manx quickly envelops this audience into what has been dubbed "the Harry Zone" with his warm vocals and the hauntingly beautiful melodies of his original songs.
He has won seven Maple Blues Awards, received honours from the Canadian Folk Music Awards and the South Australia Blues Society, garnered five Juno nominations, and received CBC Radio's Great Canadian Blues Award.
Blend Indian folk melodies with slide guitar blues, add a sprinkle of gospel and some compelling grooves, and you'll get Manx's unique "mysticssippi" flavour. It's hard to resist, easy to digest, and keeps audiences coming back for more.
Website: harrymanx.com
Tickets: $35 Adults, $30 Students/Senior